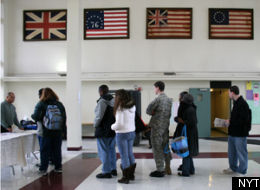 Loved this!
First the facts about ACORN. Months ago, we obtained, as part of our investigation for Rolling Stone magazine, the Republican's list the GOP alleged were the very worst cases of vote and registration fraud by ACORN and similar groups. We went through the names the GOP asserted were "obviously, undeniably and clearly fraudulent" voter registrations.
First, there was Melissa Tais, a dubious ACORN registrant. Her two voter registration forms show, admittedly, suspiciously different signatures. Republicans suggested Melissa was part of a massive fraud to allow Democrats to vote twice.
They were wrong. Ms. Tais, a Cerrillos, New Mexico, waitress, told us she had signed one form on a table and one form holding the paper in her hand. Hence, a second, wobbly signature.
Then there was Patricia White, who Republicans claimed was a fictitious voter. When we filmed her at home in Albuquerque, she seemed real enough.
And so on, through the entire GOP list -- not one fraud. And these were their best cases out of the five million "illegal voters" who Republican leaders claim have infiltrated America's voting rolls.
OKAY PEOPLE, LET'S GET BACK TO WORK STOP BEING DISTRACTED. WE HAVE AN ELECTION TO WIN AND IT'S NOT OVER YET. THIS SHOULD ENCOURAGE US MORE TO TALK TO PEOPLE ABOUT THE REAL ISSUES AND GET OUT THE VOTE. VOTE EARLY IF POSSIBLE,OFFER ASSISTANCE IN WORKING THE POLLS AND GETTING PEOPLE TO THE POLLS.
About Voting
Read the Article at HuffingtonPost